Summay :
EAMS scientific opinion issued to Global Blood Therapeutics (UK) Ltd for Voxelotor in the treatment of hemolytic anemia in patients with sickle cell disease.
MHRA awards a positive scientific opinion for voxelotor–a once-daily tablet for the treatment of haemolytic anaemia
Global Blood Therapeutics (GBT) has announced that the Medicines and Healthcare products Regulatory Agency (MHRA) has awarded a positive scientific opinion–under the Early Access to Medicines Scheme (EAMS)–for voxelotor.
The treatment is an oral once-daily tablet under review by the MHRA for the treatment of haemolytic anaemia due to sickle cell disease (SCD) in adults and paediatric patients 12 years-of-age and older. Voxelotor will be offered as monotherapy or in combination with hydroxycarbamide.
The positive opinion means that patients living with SCD–and meeting the eligibility criteria–can gain early-pre-license access to voxelotor, while the MHRA finalises its review of the Marketing Authorisation Application (MAA).
Voxelotor works by increasing haemoglobin's affinity for oxygen. As oxygenated sickle haemoglobin does not polymerise, while voxelotor inhibits sickle haemoglobin polymerisation and the resultant destruction of red blood cells. GBT believes that voxelotor has the potential to modify the course of SCD. The treatment is approved in the US and has been given the seal of approval through a Priority Medicines (PRIME) designation from the European Medicines Agency.
SCD is a rare inherited blood disorder, affecting approximately 15,000 people in the UK. Patients experience progressive, serious complications and comorbidities, including end-organ damage, which can lead to a decreased quality of life and early death. There is no known cure for SCD, but there are treatments to help manage the condition.
"This decision marks a significant milestone for the sickle cell community in the UK," said Arvind Agrawal, UK medical director at GBT. "The EAMS positive scientific opinion is a key step forward to meeting our goal of providing patients in the UK with the first oral treatment option that inhibits red blood cell sickling and has the potential to reduce acute and chronic complications of sickle cell disease. GBT is delighted with the progress to help eligible patients have access to this innovation as soon as possible."
Voxelotor
Voxelotor, sold under the brand name Oxbryta, is a medication used for the treatment of sickle cell disease. Developed by Global Blood Therapeutics, voxelotor is the first hemoglobin oxygen-affinity modulator.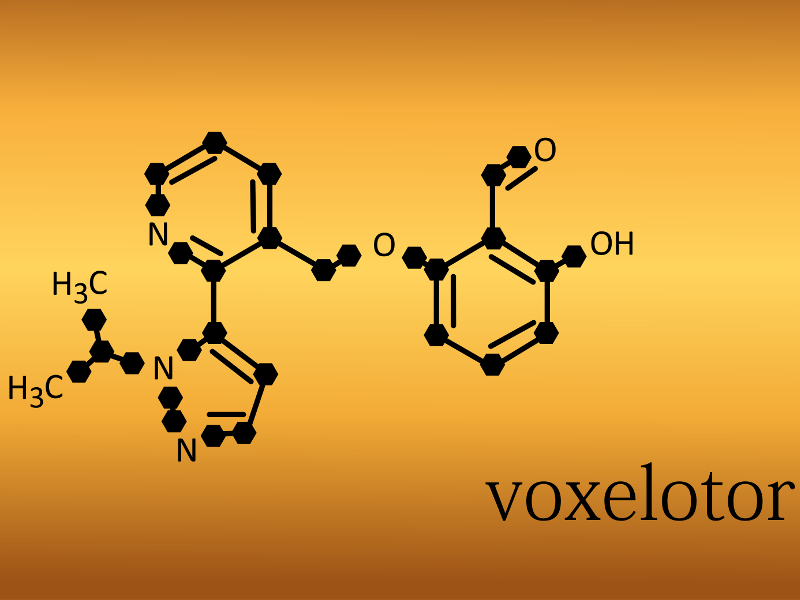 Dosage Forms & Strengths
tablet
tablet for oral suspension
Sickle Cell Disease
Indicated for treatment of sickle cell disease
1500 mg PO qDay
May take with or without hydroxyurea
Dosage Modifications
Renal impairment
Mild, moderate, or severe: No dose adjustment required
End-stage renal disease: Not studied
Hepatic impairment
Mild-to-moderate (Child-Pugh A or B): No dose adjustment required
Severe (Child-Pugh C): Decrease to 1000 mg (tablets) PO qDay or 900 mg (tablets for oral suspension) PO qDay
CYP3A4 inducers
Avoid coadministration of strong or moderate CYP3A4 inducers
If unable to avoid, adjust dose
Strong CYP3A4 inducers: Increase to 2500 mg PO qDay
Moderate CYP3A4 inducers: Increase to 2000 mg PO qDay
Contraindicated (1)
lonafarnibvoxelotor will increase the level or effect of lonafarnib by affecting hepatic/intestinal enzyme CYP3A4 metabolism. Contraindicated. Lonafarnib is a sensitive CYP3A4 substrate. Coadministration with strong or moderate CYP3A4 inhibitors is contraindicated.
Serious – Use Alternative (329)
abametapir
abemaciclib
abiraterone
acalabrutinib
ado-trastuzumab emtansine
alfentanil
alfuzosin
alpelisib
alprazolam
amiodarone
amlodipine
amobarbital
apalutamide
apixaban
apremilast
aprepitant
aripiprazole
armodafinil
atazanavir
atorvastatin
avanafil
avapritinib
avatrombopag
axitinib
bedaquiline
benzhydrocodone/acetaminophen
benzphetamine
bexarotene
bortezomib
bosentan
bosutinib
brentuximab vedotin
brexpiprazole
brigatinib
bromocriptine
budesonide
buprenorphine
buprenorphine buccal
buprenorphine subdermal implant
buprenorphine, long-acting injection
buspirone
busulfan
butabarbital
butalbital
cabozantinib
calcifediol
calcitriol
carbamazepine
cariprazine
ceritinib
chlordiazepoxide
chloroquine
chlorpheniramine
cilostazol
citalopram
clarithromycin
clobazam
clonazepam
clorazepate
cobicistat
cobimetinib
cocaine
colchicine
conivaptan
copanlisib
crizotinib
cyclophosphamide
cyclosporine
dabrafenib
dantrolene
dapsone
darifenacin
darolutamide
darunavir
dasatinib
deflazacort
dexamethasone
dexlansoprazole
diazepam
dihydroergotamine
dihydroergotamine intranasal
diltiazem
disopyramide
docetaxel
doravirine
doxorubicin
doxorubicin liposomal
dronabinol
dronedarone
duvelisib
efavirenz
elagolix
elbasvir/grazoprevir
eletriptan
eliglustat
elvitegravir
elvitegravir/cobicistat/emtricitabine/tenofovir DF
encorafenib
entrectinib
enzalutamide
eplerenone
ergoloid mesylates
ergotamine
erlotinib
erythromycin base
erythromycin ethylsuccinate
erythromycin lactobionate
erythromycin stearate
escitalopram
eslicarbazepine acetate
esomeprazole
estradiol
estrogens esterified
estropipate
eszopiclone
ethinylestradiol
ethosuximide
etoposide
etravirine
everolimus
exemestane
fedratinib
felbamate
felodipine
fenofibrate
fenofibrate micronized
fenofibric acid
fentanyl
fentanyl intranasal
fentanyl transdermal
fentanyl transmucosal
flibanserin
flurazepam
flutamide
fosamprenavir
fosphenytoin
fostamatinib
gefitinib
glasdegib
glecaprevir/pibrentasvir
guanfacine
haloperidol
hydrocodone
hydroxyprogesterone caproate
ibrutinib
idelalisib
ifosfamide
imatinib
indinavir
infigratinib
irinotecan
irinotecan liposomal
isosorbide dinitrate
isosorbide mononitrate
isradipine
istradefylline
itraconazole
ivabradine
ivacaftor
ivosidenib
ixabepilone
ixazomib
ketamine
lacosamide
lansoprazole
lapatinib
larotrectinib
lemborexant
levoketoconazole
levomilnacipran
levonorgestrel oral
linagliptin
lomitapide
lopinavir
lorlatinib
losartan
lovastatin
lumacaftor/ivacaftor
lumefantrine
lurasidone
lurbinectedin
macimorelin
macitentan
maraviroc
medroxyprogesterone
mefloquine
mestranol
metaxalone
methadone
methylergonovine
methylprednisolone
midazolam
midostaurin
mifepristone
mirtazapine
mitomycin
mobocertinib
modafinil
montelukast
nafcillin
naldemedine
naloxegol
nefazodone
nelfinavir
netupitant/palonosetron
nevirapine
nicardipine
nifedipine
nilotinib
nimodipine
nisoldipine
norethindrone
norethindrone acetate
olaparib
ombitasvir/paritaprevir/ritonavir & dasabuvir (DSC)
omeprazole
ondansetron
osimertinib
ospemifene
oxycodone
paclitaxel
paclitaxel protein bound
palbociclib
panobinostat
paricalcitol
pazopanib
pemigatinib
pentobarbital
perampanel
pexidartinib
phenobarbital
phenytoin
pimavanserin
pimozide
pitolisant
polatuzumab vedotin
pomalidomide
ponatinib
praziquantel
primaquine
primidone
progesterone micronized
quazepam
quetiapine
quinidine
quinine
rabeprazole
ranolazine
regorafenib
repaglinide
ribociclib
rifabutin
rifampin
rifapentine
riociguat
ritonavir
rivaroxaban
roflumilast
rolapitant
romidepsin
ropivacaine
ruxolitinib
ruxolitinib topical
salmeterol
saquinavir
saxagliptin
secobarbital
selumetinib
sildenafil
simvastatin
siponimod
sirolimus
sofosbuvir/velpatasvir
solifenacin
sonidegib
sorafenib
St John's Wort
stiripentol
sufentanil
sufentanil SL
sunitinib
suvorexant
tacrolimus
tadalafil
tamsulosin
tasimelteon
tazemetostat
telotristat ethyl
temsirolimus
teniposide
tetracycline
tezacaftor
theophylline
tiagabine
ticagrelor
ticlopidine
tinidazole
tipranavir
tofacitinib
tolterodine
tolvaptan
toremifene
trabectedin
tramadol
trazodone
triazolam
trimethoprim
trimipramine
ulipristal
upadacitinib
valbenazine
vandetanib
vardenafil
velpatasvir
vemurafenib
venetoclax
venlafaxine
verapamil
vilazodone
vinblastine
vincristine
vincristine liposomal
vinorelbine
vorapaxar
voriconazole
vortioxetine
voxilaprevir
zolpidem
zonisamide
Monitor Closely (9)
atogepant
daridorexant
diazepam intranasal
finerenone
isavuconazonium sulfate
lefamulin
levamlodipine
rimegepant
voclosporin
Adverse Effects
>10%
Adults and adolescents ≥12 yr
Headache (32%)
Diarrhea (23%)
Abdominal pain (23%)
Nausea (19%)
Rash (15%)
Pyrexia (15%)
Pediatrics 4-11 yr
Pyrexia (36%)
Vomiting (33%)
Rash (20%)
Abdominal pain (18%)
Diarrhea (18%)
Headache (18%)
1-10%
Adults and adolescents ≥12 yr
Drug hypersensitivity (<10%)
<1%
Adults and adolescents ≥12 yr
For more Information: Sign in Websites for Agrochemical & Pharmaceutical Databases:
Website : https://www.chemrobotics.com/ (Agrochemical Databases)
Website : https://chemroboticspharma.com/  (Pharmaceutical Databases)