Summary –
Bayer's blockbuster hopes for Nubeqa just got a little brighter, thanks to a phase 3 trial win that could result in the drug reaching more patients.
Nubeqa results could pave the way to larger patient group
A combination of Bayer's androgen receptor inhibitor Nubeqa plus standard of care trumped standard care alone at prolonging the lives of men with metastatic hormone-sensitive prostate cancer (mHSPC), data from the company's late-stage Arasens study
Nubeqa is one of three potential blockbuster drug candidates
Bayer said a combination therapy including its Nubeqa drug was shown to prolong the lives of men suffering from metastatic prostate cancer in a clinical study, underpinning the company's hopes for the drug to become a key sales driver.
Nubeqa, also known as darolutamide, improved overall survival in a combination with standard care when compared to standard care alone, which was the primary goal of the trial, the German company said in a statement on Friday.
The trial read-out could pave the way for an enlarged market as Nubeqa is already approved in non-metastatic prostate cancer that cannot be treated with standard hormone therapy.
Bayer, which is paying billions to settle U.S. claims its Roundup weedkiller caused cancer, needs to strengthen its drug development pipeline as its two pharmaceutical best-sellers, stroke prevention pill Xarelto and eye drug Eylea, face a decline in sales in a few years.
Nubeqa is one of three Bayer prescription drugs that the company expects to generate more than $1 billion in peak annual sales, known in the industry as blockbusters, alongside kidney disease treatment finerenone and menopausal symptoms relief elinzanetant.
As of the third quarter, Nubeqa had yet to join the ranks of Bayer's 15 best-selling drugs, meaning its sales were less than the €62 million ($71 million) generated by radiotherapy Xofigo. Meanwhile, Johnson & Johnson's Nubeqa rival Erleada generated $344 million in worldwide sales for the period, while Pfizer and Astellas' competitor Xtandi made $309 million
An estimated 1.4 million men were diagnosed with prostate cancer in 2020, with about 375,000 worldwide dying from the disease, Bayer noted in a press release. At the time of diagnosis, most men have localized prostate cancer, which can be treated with surgery or radiotherapy.
About Nubeqa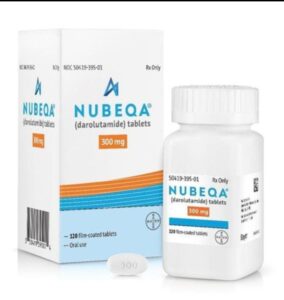 WHAT IS NUBEQA?
NUBEQA is a pill for prostate cancer that has not spread to other parts of the body and no longer responds to a medical or surgical treatment that lowers testosterone.
INDICATION
NUBEQA® (darolutamide) is a prescription medicine used to treat men with prostate cancer that has not spread to other parts of the body and no longer responds to a medical or surgical treatment that lowers testosterone.
It is not known if NUBEQA is safe and effective in women and children.
HOW NUBEQA WORKS
Within every prostate cell, there are special molecules called androgen receptors, or AR for short. When testosterone attaches to an AR, it causes cancer cells to grow. NUBEQA attaches to the AR and blocks testosterone from attaching to it, which helps delay cancer growth.
NUBEQA HAS CLINICAL PROOF
NUBEQA was studied in a clinical trial with more than 1500 men with nmCRPC. In this study, 955 men received NUBEQA with hormone therapy* and 554 men received hormone therapy alone. This study measured the length of time living without the cancer spreading to other parts of the body, also called metastasis-free survival (MFS). The study also measured overall survival (OS), which is how long a person may live after starting therapy.
COMMON SIDE EFFECTS WITH NUBEQA
The most common side effects of hormone therapy* + NUBEQA vs hormone therapy alone are
Feeling more tired than usual (16% vs 11% on hormone therapy alone)
Pain in arm, leg, hand, or foot (6% vs 3% on hormone therapy alone)
Rash (3% vs 1% on hormone therapy alone)
Decreased white blood cells (neutropenia; 20% vs 9% on hormone therapy alone)
Changes in liver function tests (16% vs 7% on hormone therapy alone)
Overall, serious side effects with hormone therapy + NUBEQA were moderately higher than those with hormone therapy alone.
Serious side effects happened in 25% of men who added NUBEQA to hormone therapy compared to 20% who took hormone therapy alone
Serious side effects that happened in 1% or more of men who added NUBEQA to their hormone therapy included: not being able to urinate completely, pneumonia, and blood in the urine
About Bayer Pharma
Bayer AG  is a German multinational pharmaceutical and life sciences company and one of the largest pharmaceutical companies in the world. Headquartered in Leverkusen, Bayer's areas of business include pharmaceuticals; consumer healthcare products, agricultural chemicals, seeds and biotechnology products. The company is a component of the Euro Stoxx 50 stock market index.
Bayer was founded in 1863 in Barmen as a partnership between dye salesman Friedrich Bayer and dyer Friedrich Weskott. As was common in this era, the company was established as a dyestuffs producer. The versatility of aniline chemistry led Bayer to expand their business into other areas, and in 1899 Bayer launched the compound acetylsalicylic acid under the trademarked name Aspirin. In 1904 Bayer received a trademark for the "Bayer Cross" logo, which was subsequently stamped onto each aspirin tablet, creating an iconic product that is still sold by Bayer. Other commonly known products initially commercialized by Bayer include heroin, phenobarbitol, polyurethanes, and polycarbonates.
For more Information: Sign in Websites for Agrochemical & Pharmaceutical Databases:
Website : https://www.chemrobotics.com/ (Agrochemical Databases)
Website : https://chemroboticspharma.com/  (Pharmaceutical Databases)