Summary :
Agriculture, a vital sector of the Indian economy has a great importance. According to the Ministry of Agricultural and Farmers Welfare, agriculture and related industries provided 20.2% of the country's Gross Value Added in FY 2020-21 at current prices. According to media, the Indian agriculture sector will be worth US$24 billion by 2025. Investing in this industry appears to be quite promising.
Agriculture is one of the most important industries of the Indian economy. Agriculture employs the majority of Indians and accounts for over 17% of the country's GDP.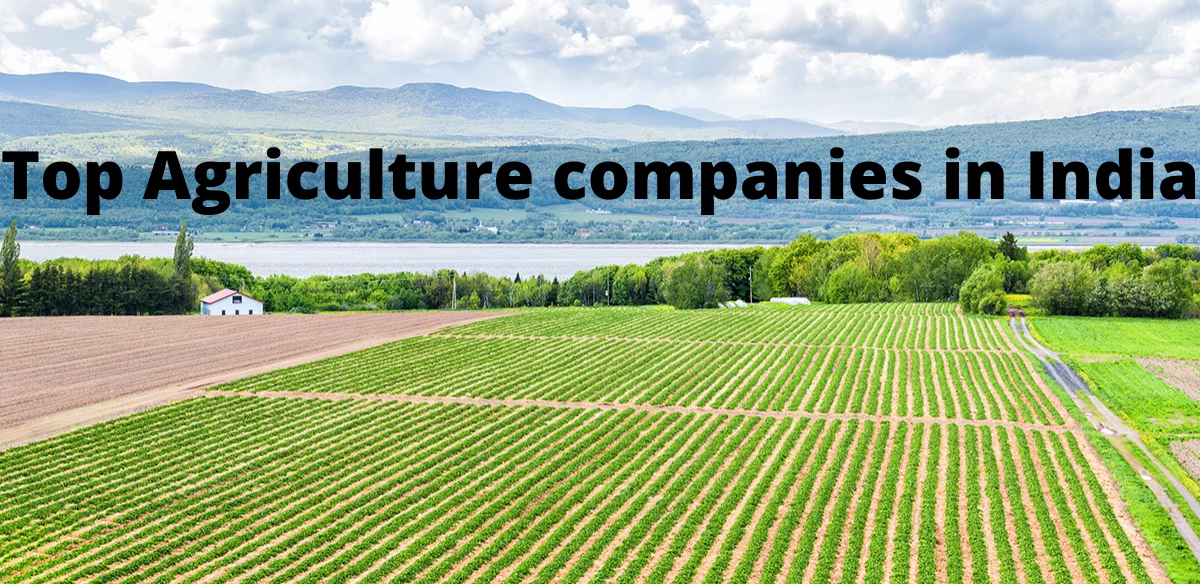 Getting groceries from the market may appear to be a simple task. We don't consider the more obvious part of their availability because we've grown accustomed to having supermarkets and food stores nearby. Agriculture corporations have been working for years to ensure that we have enough food to eat.
Read on to know about the 10 best Agri-companies in India
Godrej Agrovet Limited
Godrej Agrovet Limited   a subsidiary of the well-known Godrej Corporation, was founded in 1990. A company that manufactures agricultural products and is one of the largest in the country is included in the top ten list. It also owns a palm oil plantation in addition to providing animal feed and poultry goods. Concerns about quality are critical in the development of green products by the company.
Bombay Burmah Trading Corporation Ltd
The Bombay Burmah Trading Corporation, Limited (BBTCL) is a 150-year-old company. It has made its fortunes on teak since becoming a public corporation in 1863. The corporation is part of the Wadia Group, a multibillion-dollar conglomerate.
It is the second-oldest company in terms of the number of years it has been publicly traded.
The BBTCL Group has a combined annual turnover of 1.2 billion dollars. Tea, coffee, other plantation products, biscuits, dairy products, auto electric and white goods parts, weighing products, horticulture and landscaping services, and healthcare products are among the company's product categories (such as dental, orthopaedics, and ophthalmic products).
National Agro-Industry
In 1970, the company was started in Ludhiana, Punjab. The company's major goal is to provide the greatest equipment to its consumers. Crop production time and energy have been lowered because to new farming practices. The National Agro-industry implements advanced agricultural methods to make the task of the agriculture sector easier.
Kaveri Seed Company Ltd
Kaveri is one of India's fastest-growing seed firms, with over 15,000 distributors and dealers around the country. Kaveri employs over 883 people and sells a variety of hybrid seeds.
The company is positioned to achieve greater heights in fulfilling its brand promises by management investing in innovation and renewing its focus on R&D. The company is a renowned seed manufacturer in India and is at the top of its game. Kaveri has one of the country's largest drought and disease resistant/high yielding hybrid/varietal portfolios. The company creates:
Corn
Bajra
Rice & Jowar
Tomato, Okra & Gourds
A tiny seed production facility was established in Gatla Narsingapur village, Andhra Pradesh in 1976, by the founder G.V. Bhaskar Rao. He is a science graduate & his wife G Vanaja Devi. The idea of Kaveri Seeds became reality in 1986 with company's incorporation.
Dhunseri Tea & Industries Ltd 
Dhunseri Tea & Industries Ltd. (DTIL) was solely concerned in tea production from 2008 to 2009, but has subsequently moved into other fields. For the past 50 years, the Dhunseri Group has been synonymous with tea and is one of its oldest firms.
DTIL has increased its footprint in Assam from eight to ten estates since 2003-04. As a result, the company has risen to become one of India's top ten tea growers. The Company's tea packaging and blending facilities are located at Dhunseri Tea Estate (Assam) and Jaipur (Rajasthan). It is an Indian agriculture company with a stock exchange listing.
Dhunseri Petrochem & Tea Pte Ltd. has purchased several tea estates in Malawi, South-Eastern Africa. Each year, the properties produce 94.50 million kg of tea. Dhunseri Petrochem & Tea Ltd is a company based in Dhunseri, India. Dhunseri Petrochem & Tea Ltd. Joins an elite group of the tea companies already established overseas tea plantations.
JK Agri Genetics Ltd
JK Agri Genetics Ltd (JKAL) is a renowned seed firm founded in 1989 and headquartered in Hyderabad, Andhra Pradesh, India. JKAL is a pioneer in India's seed sector, dedicated to helping the farming community, and is one of the top 10 agricultural companies in the country.
Cotton, Wheat, Maize, Corn, Pearl, Millet, Sorghum, Sunflower, Castor, Mustard, Sorghum Sudan grass, Tomatoes, Oil plants, Okra, and Chillies are among the products it develops, produces, processes, and markets. It is a prominent seed company in India and is rated among the top seed companies in the world.
Raghuvansh Agrofarms Ltd
Since its inception in 1995, the Company's principal business has been agricultural operations. The Company grows a variety of organic fruits and vegetables in addition to organic veggies, organic grains, and organic cereals. The Company's integrated operation grows, processes, and distributes agricultural produce.
The company also produces, sells, and manufactures organic manure and dairy products in addition to those businesses.
Goodricke Group Ltd 
Goodricke Group Limited is a tea manufacturer and grower. The Company owns and runs 18 tea estates in Bengal and Assam. Tea is sold in bulk both domestically and internationally.
The Company makes Packet Tea for numerous domestic brands in addition to making Instant Tea in its plant in Dooars, West Bengal.
The company is traded on the Bombay Stock Exchange (BSE).
HPC Biosciences Ltd
The company is distinguished from the other agricultural companies by various factors, making it a market leader in the row crop & broadacre industries. To achieve perfect balance between the production processes and a material use. As a part of our commitment to the customers satisfaction, HPC Biosciences Ltd. Has team of highly committed individuals, who devotes 80% of their time, while travelling throughout the Northern India & visiting the people, who are interested in their products.
The team members have been involved in each product line since it began. They are completely trained & experienced. The close relationship HPC Bioscience has with their customers is it's high success rate in improving the designs and releasing the new products.
Nath Bio-Genes (India) Ltd
Nath group is a multi-faceted organization, which is interested in seeds, paper, Agro-research plantations, pharmaceuticals, biotechnologies, chemical & other industries.
The company has been in seed business for 30 years, almost as long as its industry, it is one of India's top seed companies.
Nath Bio-Genes is the first among the seed companies in whole Asia to receive an ISO 9001 certificate. A range of the excellent product is available from Company, including the products in biostimulants, vegetable crops & field crops.
For more Information: Sign in Websites for Agrochemical & Pharmaceutical Databases:
Website : https://www.chemrobotics.com/ (Agrochemical Databases)
Website : https://chemroboticspharma.com/  (Pharmaceutical Databases)